Learn to earn
Learning Centre
---
"Constantly think about how you could be doing things better."
- Elon Musk, Investor & Entrepreneur
Learn how to promote your webinars for business | Lisnic
---
Business
The pandemic forced many of us to connect with our audience and customers online and as a result we have cast our nets wider than ever before! Webinars are a great way to stay connected with those beyond your international borders and still make them feel like a valued customer. Whether it's an online announcement, panel discussion or a mass giveaway, webinars are a powerful asset to your business.
How to promote a webinar on LinkedIn
LinkedIn is a great way to promote your webinar event particularly if your customers are business owners. (B2B businesses will benefit greatly!) Make sure you sell your webinar in a way that is attracting the right target audience (and attendees in general). 'All you need to know about marketing' for example is super overused and not very exciting at all, dare I say it but go clickbait-y!
Give yourself plenty of weeks before the event to start conversations with those who may be interested in attending. Ask them to share the event with their network or anyone they know who may benefit from the topic. It might also be worth (just this once) to use the paid ad option on LinkedIn to make sure your event is being circulated.
How to promote a webinar on social media
How do you promote a webinar on social media? Well it depends on the platform. If you are on Facebook, Facebook Groups are a great way to spread the word to a community of like-minded people. This could either be a Facebook group that you create and invite others to, or an existing group where your target market are already active. Just be aware that existing Facebook groups will have admins that may not allow any external promotion, so be strategic.
You could also consider going down the paid traffic route. Put together a Facebook ad, target the right audience, use a minimal budget ($5-$10 day ad spend) and run it for a few days to draw in attendees.
If you don't have a marketing budget to work with the next best option is having a content strategy. Here are some saucy post examples to include leading up to the event:
Tell a story about how your product or service has helped someone
Do a giveaway (people love when there's a chance to win a freebie!)
Drop some content teasers
Ask people what they would like to know via polls
Use videos, photos, carousels and text
Carefully plan your content to continuously drum up the excitement and post regularly (Monday, Wednesday and Friday). Include the call to action (to sign up to your webinar) in every post.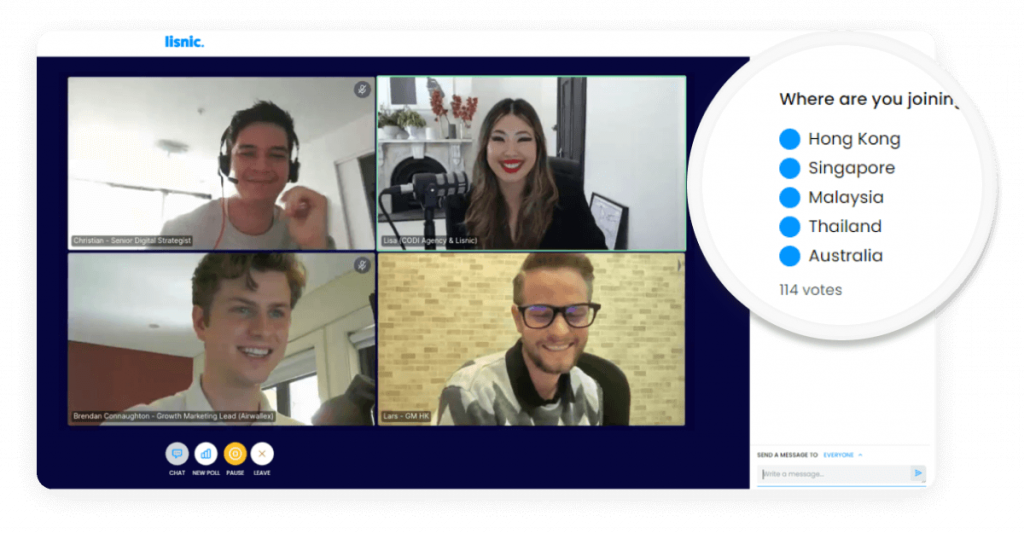 Use Lisnic Live
Before you even get to the promotional stage, you need an easy-to-use webinar technology to host your event! That's where Lisnic Live comes in. Lisnic Live is a brand new technology that connects you with your professional network at the click of a button!
Our world-class competitor advantages include:
A custom event landing page built to match your brand
An unlimited audience size so that you can invite 100 or 1,000,000 members of your network with confidence
Sharing the spotlight, invite attendees 'on stage' to ask a question or participate in the discussion
Interactive chat, poll and screen share functionalities
Moderators who can quickly remove participants, delete chat messages and directly message the speakers in a private chat channel so you can trust your event will run with ease
Boost your brand and WOW your audience with Lisnic Live today!
Co-Founder of Lisnic 🌏 Founder of CODI Agency (Digital Marketing)📱
View Profile
Latest articles
Stay up to date
Sign up and be the first to know about our latest offers and news.
Want to know anything else?
We're an open book so hit us up if we've missed anything here or if there's something else you'd like to know.
List your business for FREE and be seen by ready to buy customers!
Copyright © 2023 Lisnic. All rights reserved.
Thought leaders & celebrities share their tactics for success on the Lisnic podcast by Lisa Teh & Nick Bell
Copyright © 2023 Lisnic. All rights reserved.