Learn to earn
Learning Centre
---
"Constantly think about how you could be doing things better."
- Elon Musk, Investor & Entrepreneur
What is project management?
---
Management
Project management is the planning and organization of your company's resources to make sure that a project is completed. The resources managed can include but are not limited to personnel, money and intellectual property. It's a very important job in any company, whether it's for a one-time project or ongoing projects.
Project management is important in many fields, but it is especially important in construction and engineering. As more careers involve complex components in projects, it is becoming more common to see project management as a critical part of making sure projects are completed. In many office settings, project managers are used to oversee ongoing goals and projects.
No matter the field that you're working in, project management has the same expectations and goals. They outline the goals to complete the project and make sure that the project gets done. Project managers need to make sure that everybody is on the same page about the project and that all parts are being completed well.
TYPES OF PROJECT MANAGEMENT
Project management has similarities no matter what the field or what is being managed. There are however some different kinds of project management that those who are interested need to be familiar with. There are three major types of project management, some are used more in certain industries and projects but they can be adapted for many situations.
Waterfall project management is a linear form of project management. A piece of the project needs to be completed before the next can begin and everything flows in one direction, just like a waterfall. This type of project management involves attention to detail and using timelines. Often the team working on the project will get smaller as the project moves to completion.
Agile project management is the opposite where each part of the project is completed parallel to the other parts. This way mistakes can be fixed without going back and redoing the whole project. The main focus of this type of project management is continuous monitoring and improvement of products and is common to see in computer software.
Lean project management (developed from Japanese manufacturing practices) focuses on reducing waste, both in time and resources. The goal of this type of management is to create more value for customers. This type of management may grow in use as more companies look to reduce resources and create more sustainability.
There are many different types of project management but many of them borrow elements from these kinds. Many people who manage projects may take the elements that work best for the specific project and industry. They can even be adapted for the team and what works best for individuals.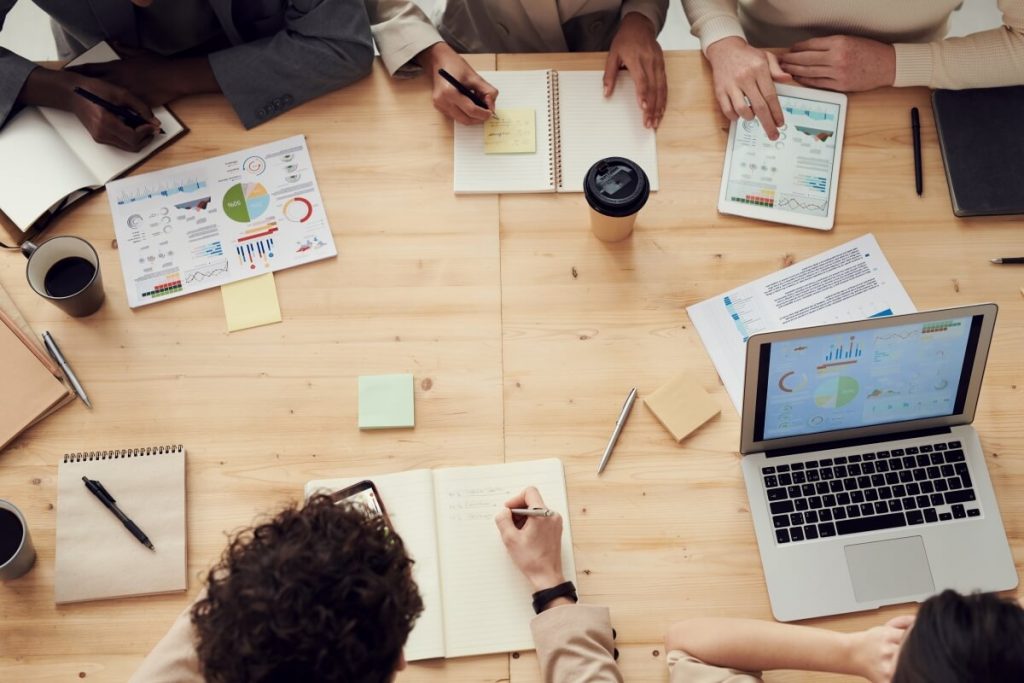 SUCCESSFUL PROJECT MANAGEMENT
Being successful in project management requires being able to do many things at once. You have to be able to decide when a project needs to be completed, plan how it will be completed, and lead others to the completion of that project. You have to be able to work independently and with others. It's complicated work that looks easy when done correctly.
Being able to determine when a project needs to be completed is one of the first steps in project management. This will involve looking at the company's resources to see what can be allocated to the project. The manager then has to ensure that the project can be completed with those resources available to them.
These resources often include money, personnel and technology. In many companies, these resources have to be shared among different departments and different projects. While it would be perfect if your project had all of the resources, it is typical that each project will have to share resources in some way.
Outlining the project is a crucial step and often done in conjecture with allocating resources. It is up to the project manager to determine each step to get from the beginning to the end with the resources available. Often the outline for a project will include smaller goals to be reached to make sure the project is running on time.
Of course, not everything will run perfectly. The project manager also needs to plan for potential problems and make sure that there are ways to work around those problems. This can include adding some wiggle room to deadlines or allocating resources differently when problems arise. Project managers should hope for the best but plan for the worst.
Many parts of these first few steps in managing a project will be done independently, depending on the company and the project. Some project managers work in teams and others with guidance from general managers. No matter how they work, each project manager should be able to ascertain the goals of the project independently.
Once the project gets going, it is up to the project manager to make sure that the people on the project are aware of the end goal, the steps to get there, and what needs to be done. A successful project manager knows that there are many ways to manage people and each employee has different managing needs. It may take a while to find what works best for your managing style and team. Managing a team isn't always easy but it is necessary to get a project done.
Managing a project isn't an easy job, but successful project managers can make it look so. They have to balance the needs of a team with the goals of the project and that involves a lot of moving parts. It can be a delicate balance to make sure a project is completed. A successful project manager should not be taken for granted.
SUMMARY
Project management is managing a project for a company, this can be a one-off project or an ongoing one. There are different ways of managing projects that tend to fall into one of three categories. While some industries have more need for project managers over others, it is a job that is becoming more necessary in multiple industries. Managing a project takes a collection of different skills.
Co-Founder of Lisnic 🌏 Founder of CODI Agency (Digital Marketing)📱
View Profile
Latest articles
Stay up to date
Sign up and be the first to know about our latest offers and news.
Want to know anything else?
We're an open book so hit us up if we've missed anything here or if there's something else you'd like to know.
List your business for FREE and be seen by ready to buy customers!
Copyright © 2023 Lisnic. All rights reserved.
Thought leaders & celebrities share their tactics for success on the Lisnic podcast by Lisa Teh & Nick Bell
Copyright © 2023 Lisnic. All rights reserved.