Learn to earn
Learning Centre
---
"Constantly think about how you could be doing things better."
- Elon Musk, Investor & Entrepreneur
What is product marketing?
---
Marketing
Product marketing is the procedure of bringing a new product to the front of the market. Without a skilled product marketing team, a product will have very little chance of surviving the large, aggressive world of competitive product marketing.
The product marketing team aims to make sure that any interested potential customers will know what their product is, where their product will be, how their product will be used, and most importantly, why you need their product.
In a particularly competitive market, a product marketing team will make or break the life and success of a product. A skilled team with motivation and innovation will turn a product into an incredible success.
Here is an outline of how a team may address their product marketing from start to finish, so that they may achieve the maximum possible success for their companies product.
RESEARCH
Market research is one of the first steps towards successful product marketing. This process involves gathering information about your potential customers.
These customers are the key to the success and life of your product. Without them and their approval, your product cannot succeed. You want to be acquainted with this particular demographic as well as possible.
You want to ensure that before you work on and progress your product campaign, there are actual customers that will appreciate and buy your product.
This research involves finding who wants your product, where they are, and how you may be able to improve your product for them by the time it is released to the world.
TELL THE STORY
For a product to succeed, it needs to tell a story. In this story, you will answer questions such as:
Who will benefit from this product?
What problem will this solve?
Is there already another product that solves this problem?
Will this product continue to fit its intended use?
Creating a product story is not only going to give your customers an idea of what you are trying to sell, but also create a valuable image of what you will be trying to do with your product moving forward.
PRODUCT CONTENT
Next, you will want to work with content creators or make your own content. This is the step where you will begin to introduce your product and what can be expected from it.
This initial glimpse will tell your market audience what they can expect through different forms of content. You will want a website, at the very least.
Above this, content like blog posts, pre-release user reviews, and case studies will help support your product.
Product marketing teams will often reach out to freelancers or specialized firms in order to get this type of content written and released. Other times, they will do everything in-house.
LAUNCH PLAN
A good product marketing team will have a well-thought launch plan for their product. This will document the entire launch process from start to finish, to ensure that not only all bases are covered, but as much data as possible is collected during the launch.
After a team has worked this plan out and has considered outcomes and contingencies, they will release the product to the world and see what the world has to say.
They will then diligently acquire data and information from the community and any source available, so that they may further strategize the future of the product and the company. In other words, the product marketing campaign by no means ends here.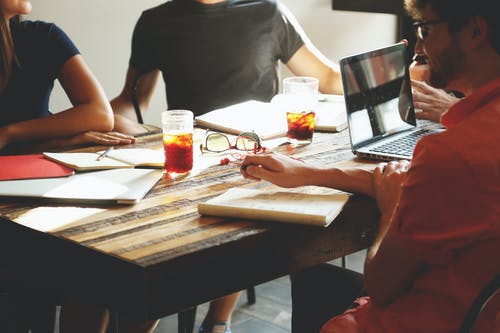 MEETING
Once a product is launched the team will meet up and share what they have observed. This is a critical point in the product's life, and it will be very important to have the essential team together to share ideas and observations.
From here they will continue to plan. They will implement contingencies where applicable. They will decide how to move forward with the product based on initial reactions from consumers.
If the product exceeds expectations, they will celebrate.
ENGAGEMENT
This step is incredibly important. Once the product has hit the streets and a product marketing team has had the opportunity to see how the product has been received, their follow up can make or break the success of the product.
If the product has survived the first wave of consumer trials and has been received well, the team will want to advertise. They will reach out to influencers and potential partners to help spread the word about the product.
At this point, customer interaction is especially important. The first wave of customers will be eager to share what they have experienced with the product, and this feedback will be extremely valuable to the team.
FOLLOW-THROUGH
Once the product is completely out on the market and promotion has been successful, the final step is to ensure that the consumer remains satisfied with the product.
The last thing the product marketing team wants to see is negative reviews. If somebody has an issue with the product, they want to resolve it as quickly and efficiently as possible.
To continue to spread the word about the product, the team will want to keep up with their engagement and look for valuable opportunities to increase the exposure and popularity of the product.
A customer support system is a great idea here. Allowing your customers to reach out to you and give not only valuable feedback but also complaints.
These complaints are important because you will want to put in place a strategy to mitigate any issues your customers may be having, so that those issues may not affect future customers and your product will be able to live on.
SUMMARY
Product marketing is critical to the success of a product. Without the hard work and skilled dedication of these teams, a product would have no chance of making it to the shelf with success.
By keeping themselves organized, motivated, and innovative, product marketers are able to properly express their company's inventions in ways that will heavily contribute to the success of the company.
Co-Founder of Lisnic 🌏 Founder of CODI Agency (Digital Marketing)📱
View Profile
Latest articles
Stay up to date
Sign up and be the first to know about our latest offers and news.
Want to know anything else?
We're an open book so hit us up if we've missed anything here or if there's something else you'd like to know.
List your business for FREE and be seen by ready to buy customers!
Copyright © 2023 Lisnic. All rights reserved.
Thought leaders & celebrities share their tactics for success on the Lisnic podcast by Lisa Teh & Nick Bell
Copyright © 2023 Lisnic. All rights reserved.