Learn to earn
Learning Centre
---
"Constantly think about how you could be doing things better."
- Elon Musk, Investor & Entrepreneur
Ten Reasons to Hire a Business Coach
---
Business Coaching
Hiring a business coach is a brilliant investment for any organisation or individual looking to accelerate their career in business. It enables business and organisation owners to gain specific mentoring and presents as an opportunity to improve their skills and leadership. Hiring a business coach can happen in person or virtually online. Expertise is guaranteed and can truly put an organisation on the path to flourish. Business coaches offer many types of coaching including executive coaching, integrated coaching, team coaching and virtual coaching. Each can set both the leader and their employees with the skills that they need to achieve all of their goals.
Whilst each business coach will differ in their approach, common practises include:
Re-defining goals and the vision of the organisation
Practical advice on how to run an organisation more effectively
Help reflect on the roles and responsibilities of a leader
Hiring a business coach is always a good idea. It empowers the leader of the business and the employees as a team to work more effectively and move in the direction of their goals. Business coaches can work either solely with the leader of an organisation, or coach the various team members within. Hiring a business coach is a fantastic investment and is particularly valuable when starting or scaling a small business.
Top-rated Business coaches can be easy to track down on platforms such as Lisnic.com, especially when we strive to source you the best of the best!
It's no surprise that Business coaches are highly sought after when their skillsets can assist business owners to create a strategy for success, build an beatable culture and raise capital quickly.
Access what works and reduce the learning curve
Accessing what works and reducing the learning curve involves finding the right coach for your business. Finding the right business coach sets a business up for success and opportunities for growth. Reducing the learning curve relates to the time it takes to learn and master a skill. As we all know first hand, learning something new can take time, time that is often not available when starting a new business. Hiring a business coach can significantly reduce this learning curve and help you and your business get on your feet in a much shorter period of time.
Build connections
Building connections involves speaking and networking with others. Life-long connections are built on trust and honesty and can happen among peers, clients or other like-minded people and organisations. The bonus of having a Business Coach is that they will often have a range of industry connections that they can introduce you too.
Get out of your comfort zone
Getting out of your comfort zone and pushing forward with something that initially made you uncomfortable, is a brilliant platform for growth. Growth occurs when a person stretches themselves and takes steps to do something new and innovative. Getting out of your comfort zone helps you to build on new skills along with mastering new ways of communicating and working with others. Stretching beyond the limits of your comfort zone can also bring new opportunities and develop confidence. Sometimes you just need that external someone to give you an encouraging nudge in the right direction, which is where your Business Coach comes into the picture.
See the possibilities
A Business Coach can help you recognise and prepare for new business possibilities. Being able to see these possibilities brings growth, excitement, and new developments to your business mission. Being proactive to what could happen moving forward, or what the business could achieve will enable teamwork and growth between employees and strengthen rapport and relationships.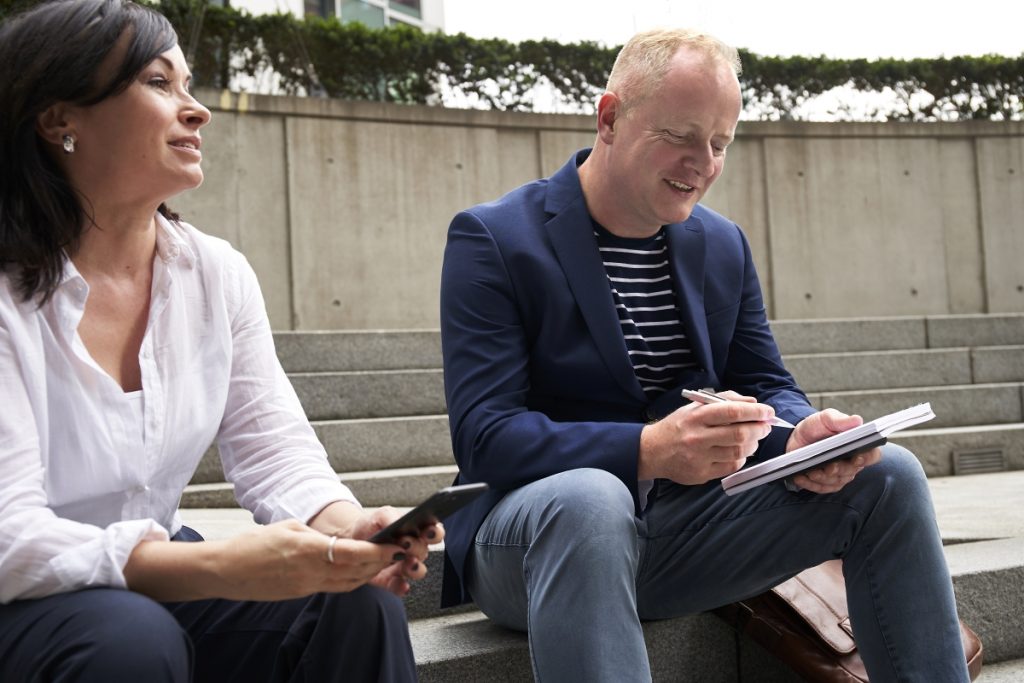 Personal Growth
A Business Coach will make sure you are in check and on the path to personal development. Personal growth helps each individual and the organisation as a whole to thrive. It involves taking time for oneself to work on mindset, daily habits, routine, goals and vision moving forward. Personal growth involves reflection, working on fixing mistakes and implementing ways to incorporate self-care and self-development.
Manage your time
Managing your time is key to completing tasks that need to be done and deadlines that need to be met. Time management helps not just the individual, but the team and the business as a whole. Time management involves prioritising tasks and developing a set routine and staying true to commitments. Let a business coach help you prioritise and delegate so that you are putting your energy and focus where it needs to be.
Be a better leader
Being a better leader involves working with your team, attending to the needs of others, setting goals and being clear on a vision for the business. Being a better leader involves personal growth, self-development, mindset work and goal setting. When you have competing priorities, it's hard to always be there for your team. This is where your Business Coach will step in and remind you of the roles and responsibilities of being a team leader.
Get into goal setting
Getting into the habit of goal setting is easier said than done. Do you set goals for the week, month, year, five years… when am I too far ahead? Business Coaches are the King and Queens of setting goals and will not only ask you to write them down but will also help you take the steps necessary to achieve them.
Learn to delegate
Learning to delegate tasks is crucial for a business to move forward and overcome setbacks. Delegating tasks involves prioritising what needs to be done and determining who is best to do it effectively. Successful delegation helps the business to run smoothly and helps everybody have a clear role within the business. Not sure who should be doing what and in which order? Work it through with your Business Coach.
Increase your profits
Increasing your profits involves managing your costs, making smart investments and not offering more than is required when purchasing, concentrating your sales efforts, expanding your market and boosting productivity. This knowledge can take a while to learn and it is easy to make silly mistakes. Talk to a Business Coach that has handled the same situations and come out on top. What's better than hearing advice from someone who has already achieved what you are trying to?
Customer Service Coordinator at Lisnic.com 🤝
Latest articles
Stay up to date
Sign up and be the first to know about our latest offers and news.
Want to know anything else?
We're an open book so hit us up if we've missed anything here or if there's something else you'd like to know.
List your business for FREE and be seen by ready to buy customers!
Copyright © 2023 Lisnic. All rights reserved.
Thought leaders & celebrities share their tactics for success on the Lisnic podcast by Lisa Teh & Nick Bell
Copyright © 2023 Lisnic. All rights reserved.