Learn to earn
Learning Centre
---
"Constantly think about how you could be doing things better."
- Elon Musk, Investor & Entrepreneur
How to work out your social media strategy
---
Business
One of the best ways to market your business is through a social media strategy. Using social media will inform customers about your business, make your branding recognizable, and attract more customers.
Since social media marketing is a somewhat new marketing strategy, many new business owners don't know where to begin. If this sounds like you, don't worry. We have created this easy 5-step guide to help you work out your social media strategy.
HOW TO CREATE A SOCIAL MEDIA STRATEGY
1. SET SOCIAL MEDIA GOALS THAT ALIGN WITH BUSINESS GOALS
The first step to creating a good social media strategy is determining your social media goals. You want your social media goals to align with your business goals in order to reestablish the purpose of the social media campaigns.
When you set social media goals, remember to set S.M.A.R.T. goals. S.M.A.R.T. is an acronym for the following:
Specific
Measurable
Attainable
Relevant
Time-bound
Setting S.M.A.R.T. goals ensures that the goals can be measured and attained. You do not want to set goals that are unclear or not easily accomplished.
If you want, you can separate your goals into short-term goals and long-term goals. This will allow you to better understand how your goals work in connection with one another. Short-term goals should be able to be accomplished between a week or a month, while long-term goals may take up to five years to accomplish.
Once your social media strategy is implemented, make sure to track the success of your goals. If you designed your goals to be S.M.A.R.T., it should be easy to track their effectiveness or success.
2. UNDERSTAND YOUR INTENDED AUDIENCE
The next step to creating a social media strategy is understanding your intended audience. The intended audience is the main demographic of people that cater to your social media accounts and business. It is critical to pinpoint your intended audience so that way your social marketing campaigns can be tailored to them.
To better determine your intended audience, you should consider these factors in your customers and potential customers:
Age
Location
Income
Marital status
Job title
Interests
Information sources
Knowing this information about your intended audience will allow you to better cater your social media strategy to other similar potential customers. It will prevent you from wasting time on people who are outright not interested in your product.
As you're understanding your intended audience, be sure to gather data using things like Google Insights or Facebook Analytics.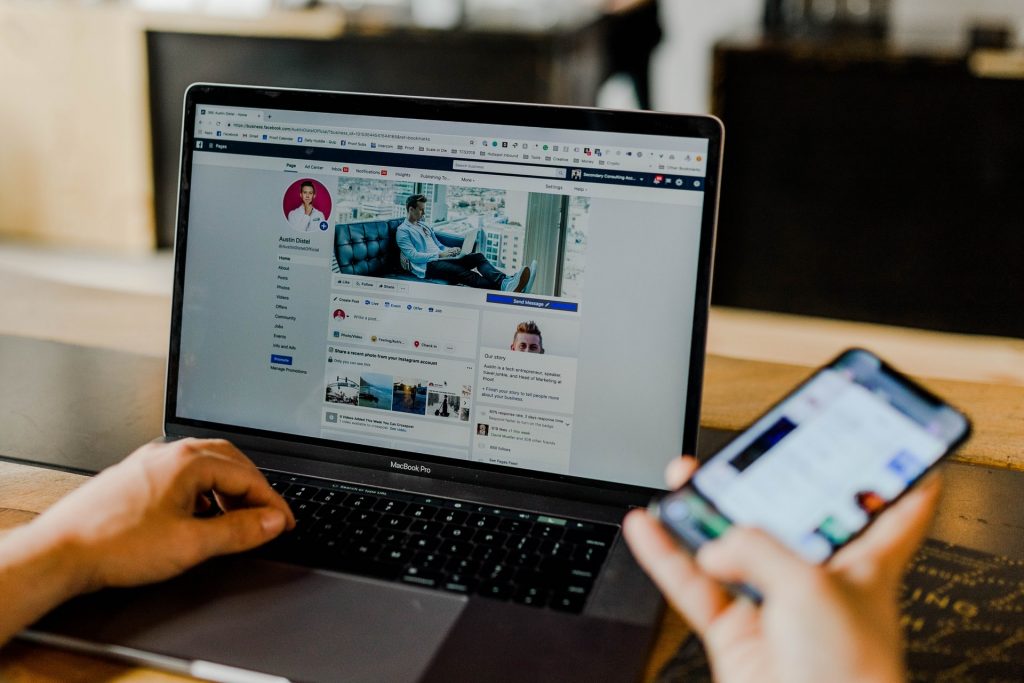 3. UNDERSTAND THE COMPETITION
Once you know your goals and intended audience, you should also understand your competition and their social media strategies. It is important to understand what your competition is doing so that you can better compete with them.
In order to understand the competition, you should conduct a competitive analysis. This will tell you what competitors are doing well and which ones are doing badly. See what sites the successful competition is using.
Are they dominant on Facebook but do not use Instagram? Then, tailor your marketing to platforms that the competition is ignoring. This is a fast way to win new clients and become a dominant player on a different social media site.
You can also conduct social listening to learn what your competitors are doing online. Do searches of the company's name, account handles, and other keywords to see both what they're doing and what other people are saying about them. You can even use a social media management tool to set up listening streams to consistently monitor your competitors.
4. SET UP ACCOUNTS
The next big step to creating a social media strategy is setting up your own accounts. This includes deciding which social networks to use, defining your strategy for each, and creating the perfect profile.
When you are setting up accounts, remember that each social media site is different. This means that your goals for each site should be slightly different. Additionally, make sure to focus on social media sites that are either underrepresented by competitors or are highly used by your intended audience.
Once it is time to make your profile, make sure to fill out all the profile fields, include keywords, and use consistent branding. The goal for your profile is to attract users, inform users about your site, and make your company easily recognizable.
5. CREATE A SOCIAL MEDIA CALENDAR
Now that you have your social media accounts set up, it is time to create a social media calendar. Content is the heart of all social media sites. So, it is important to have a plan in place for what you will share so that way the content has maximum impact.
In your social media calendar, you should account for audience interaction time, what you will post, and when you'll post it. The exact dates and times at which you will post specific content on each channel should be listed in your social media calendar. Make sure that your posts are spaced out and published at optimal times.
Additionally, make sure that your social media calendar reflects an appropriate content mix. Think about including a variety of pictures, videos, quotes, text, and anything else into your content. In general, 80% of your posts should inform, educate, or entertain your audience, while the other 20% should directly promote your brand.
Once your content calendar is created, stick to it, and post accordingly. You may find that certain strategies are less effective than others. If this is the case, simply adjust your content and your strategy. Do not get discouraged.
RECAP
Social media is one of the best ways to market your business. As we have seen, determining a social media marketing strategy is easy. All you need to do is set S.M.A.R.T. goals, understand your audience, understand your competitors, set up profiles, and create and stick to a content calendar. From there, continue fine-tuning your social media strategy, and you will see success in no time.
Co-Founder of Lisnic 🌏 Founder of CODI Agency (Digital Marketing)📱
View Profile
Latest articles
Stay up to date
Sign up and be the first to know about our latest offers and news.
Want to know anything else?
We're an open book so hit us up if we've missed anything here or if there's something else you'd like to know.
List your business for FREE and be seen by ready to buy customers!
Copyright © 2023 Lisnic. All rights reserved.
Thought leaders & celebrities share their tactics for success on the Lisnic podcast by Lisa Teh & Nick Bell
Copyright © 2023 Lisnic. All rights reserved.