Learn to earn
Learning Centre
---
"Constantly think about how you could be doing things better."
- Elon Musk, Investor & Entrepreneur
How to help your employees set goals
---
Business
It's your job to make sure your employees are reaching their full potential at work; here's how to do it.
As the head of your team, chances are your employees look up to you for examples of leadership and success. Accepting a leadership role means you also acknowledge that it's your responsibility to help your employees be the best they can be. If you're worried about where to start however, look no further—we've got you covered.
MAKE INDIVIDUAL PLANS FOR YOUR EMPLOYEES
This is a good way for you to stay organized and see where all of your employees currently stand. Create a list of things you want each of them to achieve, and then map out a path for them to reach these milestones.
Some examples of the milestones can include:
Staying on budget
Completing projects in a timely manner
Meeting certain benchmarks
Of course, each employee will have their strengths and weaknesses, so you want to make sure you keep that in mind. This way you are setting your employees up for success.
SIT DOWN ONE-ON-ONE WITH YOUR EMPLOYEES TO GET FEEDBACK
You're going to want to speak with each employee individually to see what they think about the plans you have in mind for them. They may also have goals of their own that they could use your help with. This is a good way to make sure everyone is on the same page.
Communication is key, and if you aren't conveying your expectations with your employees in a precise and clear manner, it could derail the path you've created for them.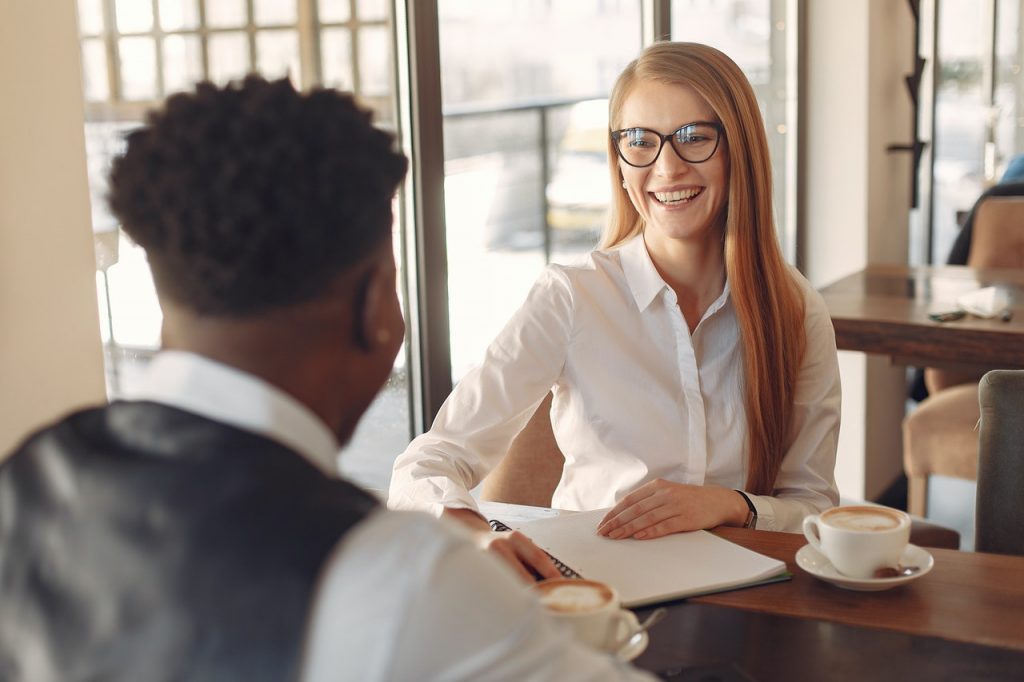 MAKE YOURSELF AVAILABLE TO MENTOR
It's likely that many of your employees may already have high expectations and goals for themselves, but simply have no idea how to get there. This is where you come in. Not only should you provide advice based on your own experiences, but try to put them in touch with any connections you may have that could be of help to them.
By opening doors up for your employees, you're not just helping them get further in their careers, but you're setting them up for success at your own company.
ENCOURAGE SELF-REFLECTION
Before you sit down with your employee for a discussion about their performance, you want to make sure you're both on the same page. Catching them off guard may make them feel like they're being targeted. In order to avoid this, encourage your employees to take a self-assessment test. This way, you can see where they stand in terms of their own self-development.
You and your employee can both work together to set realistic goals for them and find out what it is they want to get out of their job.
CREATE TEAM BUILDING EXERCISES AND ACTIVITIES
Another way to get to know your employees and their goals, is by creating team building activities. In doing this, you can see how each employee interacts and communicates with their co-workers. For some people, communication can be a problem and this is a great way to address this issue.
Team building activities also allow employees to compare themselves against their co-workers and help them see for themselves what areas they could improve in without you having to step in.
HELP THE EMPLOYEE UNDERSTAND THEIR IMPORTANCE TO THE COMPANY
Unfortunately, many employees who find themselves in a corporate environment may sometimes feel like their work is insignificant or unimportant. As the leader, it is your job to ensure each employee knows just how vital they are to the overall well-being of the company. In doing this, you are helping to build a better sense of community within your employers. This well help them see why it's important for them to reach for the goals you've set for them.
IMPLEMENT REGULAR PROGRESS REPORTS
Once you've set guidelines and goals for your employees, it's important to make sure they're keeping up with their side of things. There's only so much you can help your employee do, so they need to be putting in their own effort in order to meet their goals.
If your schedule allows, try to meet with your employees once a week in order to see where they're at progress wise. Like we mentioned before, communication between you and your employee is important and this is a great way to maintain that connection.
During these weekly meetings, you can also have your employees perform self-assessments that will allow them to see where they stand with the goals you've set for them.
GOALS SHOULDN'T JUST BE LONG TERM
Setting short term goals is a good way to boost your employee's confidence. Each time they complete a goal, they'll feel empowered and ready to move on to bigger and better challenges. Of course, this isn't to say that you shouldn't set any long-term goals either.
Long-term goals can be reassessed a year from the date you set them, while short-term goals can be assessed on a weekly or monthly basis. Ultimately this benefits both the company and the employee.
DON'T LET EMPLOYEE MILESTONES GO UNNOTICED
Positive reinforcement is one of the best ways to get someone to do something. If you notice that one of your employees has been surpassing all the milestones you've set for them, make sure you let them know you appreciate it.
Praise is a good way to keep your employees motivated and focused on continuing to make progress at work. Sometimes recognizing these employees publicly can also be a way to motivate other team members who may be falling behind on meeting their own milestones.
SUMMARY
Keep in mind that when it comes to professional goals, not all of your employees will want the same thing. That's why it's important to sit down with them and ask what they want out of their careers before setting goals for them. You are also an important part of helping your employees grow professionally, so set good examples and continue to offer your mentorship to those who might need it!
Co-Founder of Lisnic 🌏 Founder of CODI Agency (Digital Marketing)📱
View Profile
Latest articles
Stay up to date
Sign up and be the first to know about our latest offers and news.
Want to know anything else?
We're an open book so hit us up if we've missed anything here or if there's something else you'd like to know.
List your business for FREE and be seen by ready to buy customers!
Copyright © 2023 Lisnic. All rights reserved.
Thought leaders & celebrities share their tactics for success on the Lisnic podcast by Lisa Teh & Nick Bell
Copyright © 2023 Lisnic. All rights reserved.