Learn to earn
Learning Centre
---
"Constantly think about how you could be doing things better."
- Elon Musk, Investor & Entrepreneur
How to grow a business
---
Business
Growing a business is a vital part of its success. Without putting thought into growing a business, it will stay stagnant and never move past its current point. There are many great ways to grow a business, but what will work is unique for the needs of each business itself.
PERSONALITY
Personality is extremely important in growing a business. Customers of the business should be treated greatly to ensure that they will not only return, but give great referrals as well. Different customers have different needs, and almost any business can grow by personalizing products or services for the unique interests of their customers.
Whenever possible customers should always be greeted by name. It is important to have contact cards with their information and sales history entered into the computer. Giving them a personal greeting and asking them how the previous service or product they invested in is a great way to make them feel confident about purchasing more and spreading the word about great service.
Social media goes hand in hand with personality. Platforms like Facebook, Instagram, Twitter, and YouTube are great places to advertise. The great thing about these platforms is that they reach targeted audiences.
Targeted audiences are users that have specifically searched for something that a specific business caters to. By identifying these important key words, the audiences are then connected with the respective businesses reaching out to advertise.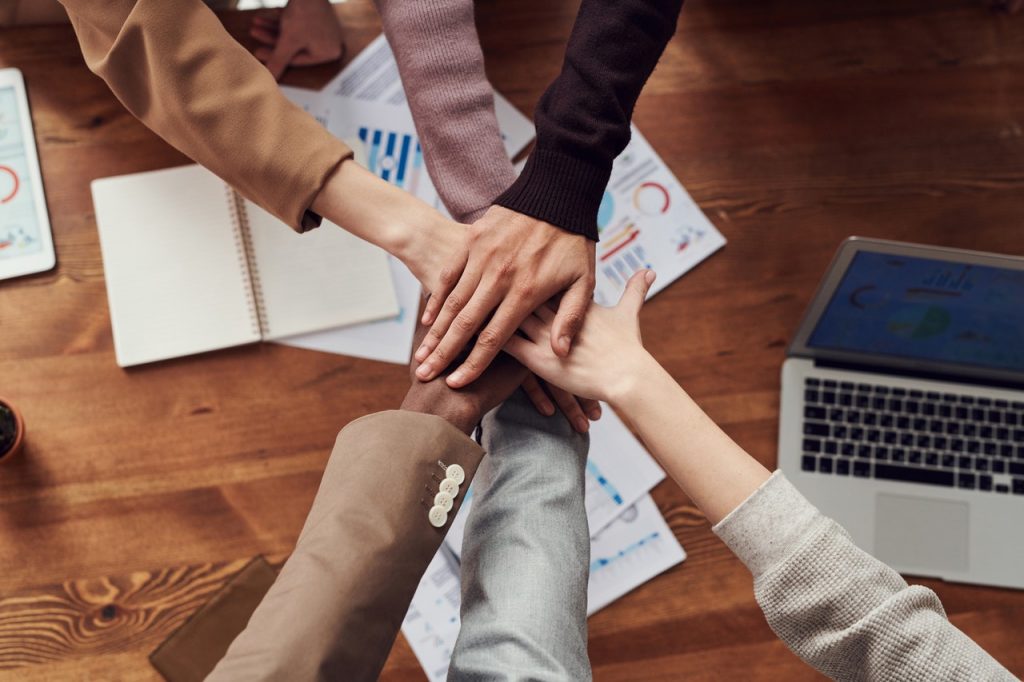 COMMUNITY
Community is extremely important in growth. Businesses can donate items with their name on it to community events. This will not only help the community, but people will remember the business for doing it; especially if the business name is printed on the given items.
If a business has enough space, they can offer their venue for hosting other events. School events are one of the best audiences to have. For example, a school play guide could be a wonderful place to have the name of a business posted.
It is important to remember that businesses are often able to help other businesses. For example, a company that pressure washes could recommend a roofing company to their client. In turn, the roofing company could recommend the pressure washing company to their client.
Businesses can also form agreements to where they recommend each other. By doing this, they are both in a symbiotic relationship, helping each other to gain more sales.
Another part of community can be as simple as reviews. If a customer has a great experience, a business could ask them to leave a positive review on a site such as Google Reviews or Facebook. Community members read these often, and they can be great advertising
COURSES FOR BUSINESS
Often times, a business is already set up and running very efficiently. However, it may need another simple kick to get in the right direction. A business owner could consider taking an online course to learn new business skills. Marketing and advertising would be an ideal place to start.,
Another option is to attend a local seminar. Often times, larger communities will have a successful company or business come in to give them ideas and support on running their own business. By attending one of these seminars, a business owner can learn from what has already been done, and attempt to apply these ideas to their own business.
Even simple things such as learning how to better use accounting software, or a word processor can lead to more success in business. The reason for this is because many business people can be timid of these programs, so they do not use them to their full advantage.
By learning how to use these programs efficiently, the programs can serve their intended purpose by allowing the business to run more smoothly and efficiently.
SIMPLE ADVERTISING
Advertising does not have to be complicated. The point of advertising is to direct and attract more people to a business. Signs on vehicles are a great way to start because they are basically a rolling billboard.
Some school districts allow advertising on the side of their school buses. School buses make multiple runs daily around local communities, and advertising on them could attract hundreds or thousands of eyes daily.
Newspaper advertising is also a good thing to do. Even though the days have darkened for classic black and white newspapers, online newspapers are still very prominent. Many communities offer a local newspaper via the internet where businesses can be advertised.
Creative ways of advertising are good to do as well. Flyers could be left on doors, or incentives could be offered for current customers who refer new customers.
USE WHAT IS AVAILABLE TO EXPAND MORE
Often times, businesses and organizations offer services that current customers are unaware of. For example, a contractor replacing sheetrock may offer his masonry services as well.
It never hurts to call a customer who has expressed needs before and offer more services.
Another good thing to do is create package deals that customers can choose from. By having several different service plans, they can be more customized for the customer's unique needs. By doing this, they can get a better deal that still makes the business more money, and the customer will be happier by getting all of these services at once.
IN CONCLUSION
Similar to scaling a business, there is really no right or wrong way to grow a business. It is important to jot down where a business is currently at, and where it needs to be in the near future. Depending on the revenue, it may or may not be important to take an aggressive approach on business growth.
There are many different methods to growing a business, and it is important for a business owner to study the different ways and figure out what will work best for his or her own company.
Business growth and development is not a hard thing to do, but it takes a good amount of preparation and thought in order to grow successfully.
Co-Founder of Lisnic 🌏 Founder of CODI Agency (Digital Marketing)📱
View Profile
Latest articles
Stay up to date
Sign up and be the first to know about our latest offers and news.
Want to know anything else?
We're an open book so hit us up if we've missed anything here or if there's something else you'd like to know.
List your business for FREE and be seen by ready to buy customers!
Copyright © 2023 Lisnic. All rights reserved.
Thought leaders & celebrities share their tactics for success on the Lisnic podcast by Lisa Teh & Nick Bell
Copyright © 2023 Lisnic. All rights reserved.