Learn to earn
Learning Centre
---
"Constantly think about how you could be doing things better."
- Elon Musk, Investor & Entrepreneur
How to build a network | Lisnic
---
Career Guide
Building a strong network is vital for any business and can make a big difference when it comes to being successful. Without a network to fall back on, business (and sales) will shortly come to a halt. Think about it. No one is out there is spreading the word about you to potential new customers!
What is a network and why do you need one?
A network is simply a group of people, but a group of people who connect you with other people who may require or desire your services. Your network will most likely consist of professional contacts who work in the same industry and vendors who provide you with tools to make your business more efficient.
Why network? Even when your network is non-expansive, you are giving yourself a greater chance that you'll have a connection who will be able to help you. They may know someone who is your ideal customer, a handy man that can fix the printer or the perfect candidate for the position you are hiring for. One of the biggest lessons you can take away from building your network is that you'll at least be one to three degrees of separation away from someone who can bring more value to your business. The more robust your network, the better.
Be a giver
If you want to build your network, it is important to provide value to those you can. If someone in your circle would benefit from hearing your advice, share your pearls of wisdom to give them a quick win. Try not to smother your act of kindness with an ulterior motive, if you genuinely help someone, you never know when and how they might be able to return the favour. When you provide value and it is received positively, this is your opportunity to strengthen your connection with that person and exchange even more value in the future.
Use social media
In the age of social media (and LinkedIn helper), you can seriously build your network with ease. One of the best social media platforms for business owners is LinkedIn. It is much more professional to contact industry partners via LinkedIn as opposed to other social media platforms like Facebook and Instagram. If you want to connect with like-minded people who are posting similar content to you or your business, use hashtags to your advantage.
Look at your current network and audit
Take the time to audit your current network. Who are you connected with? What kind of value do they bring to your business? It's OKAY to remove any mismatches from your professional network if they don't appear to be your primary audience. Instead, pay close attention to the 2nd and 3rd connections of your current LinkedIn network. Chances are they'll be more aligned to your industry in some way and will probably know someone (who knows someone) who can help out your business. If your network is small and consists of only a few people, that's a good sign to grow it further!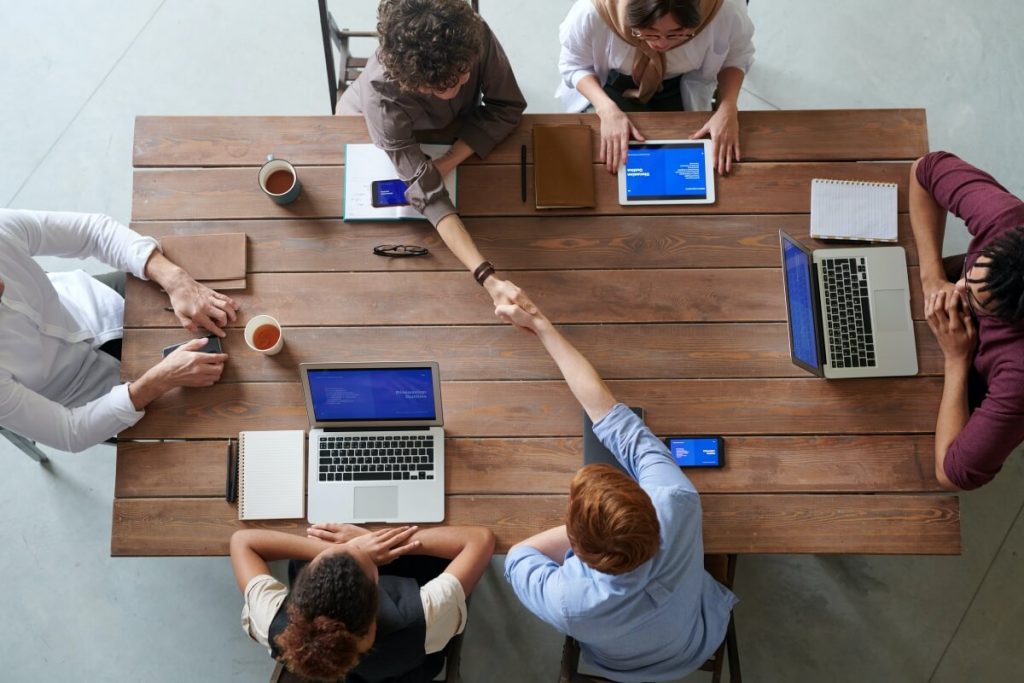 Connect with your local community
Building your network doesn't just happen on LinkedIn behind a computer screen. Consider networking with business leaders in your area through local events like network meetups, chamber of commerce meetings, etc. Participate in fundraisers and keep one eye on the community news, people love supporting their locals!
Support people in your network
Is someone in your network getting recognised? Show them some love in a social media shout out or by sending a congratulatory message. You'll be surprised at how quickly supporting those in your network becomes a two-way street. The more you hit them up and support their journey, the more likely you'll be mentioned in their conversation to family and friends. They may even put in a good word for you when you are looking to attract more customers or talent! A little bit of support can go a long way…
Throw events
Whether they are hybrid, online or in person, hosting events are a fantastic way to build a solid network. Encourage your network to invite their professional connections in order to expand your circle. Even if they are not the right fit for your business, play the role of connector for someone else looking to make a connection. Introduce the two parties and watch the magic unfold!
Get a mentor
Enlisting the help of a business expert is a great way to be introduced to their (very) expansive and professional network. Find a Lisnic Mentor who specialises in your area to quickly get your foot in the door with some great industry contacts. When it comes to seeking good additions to your network, our Lisnic Mentors will point you in the right direction. Having a Mentor also comes in handy should you need to know which potential connections may be better off avoiding…!
Co-Founder of Lisnic 🌏 Founder of CODI Agency (Digital Marketing)📱
View Profile
Latest articles
Stay up to date
Sign up and be the first to know about our latest offers and news.
Want to know anything else?
We're an open book so hit us up if we've missed anything here or if there's something else you'd like to know.
List your business for FREE and be seen by ready to buy customers!
Copyright © 2023 Lisnic. All rights reserved.
Thought leaders & celebrities share their tactics for success on the Lisnic podcast by Lisa Teh & Nick Bell
Copyright © 2023 Lisnic. All rights reserved.