Learn to earn
Learning Centre
---
"Constantly think about how you could be doing things better."
- Elon Musk, Investor & Entrepreneur
What are the stages of a mental health illness? | Lisnic
---
Mental Health
Mental illness is something that we need to become more aware of in our everyday. It not only plays a role in our personal lives, but our professional lives as well. Back in the day, many people were afraid to disclose their mental illness due to the stigma. However, in recent years, more people are opening up about their mental health struggles and are encouraging others to do the same.
Helpful resources
Before continuing, here are some resources you can reach out to in case you are struggling.
Beyond Blue 1300 22 4636, 24 hours/7 days a week, chat online or email.
Blue Knot Foundation Helpline 1300 657 380, Monday – Sunday between 9am – 5pm AEST or via email helpline@blueknot.org.au.
Butterfly Foundation's National Helpline 1800 33 4673, 8am-midnight AEST / 7 days a week, chat online or email.
FriendLine 1800 424 287
Lifeline 13 11 14, text on 0477 13 11 14 (12pm to midnight AEST) or chat online.
You can also find hotlines for your respective country here
For more information on mental illness and what you can do, check out mhaustralia.org
The stages of mental illness
Stage 1
A person is healthy and they are able to handle their emotional, physical, and mental health. They are socially active, confident in themselves and keeping themselves mentally fit.
Stage 2
Reactions may be slower due to stress and pressure. A person at this stage might also get agitated easily. Other signs include nervousness, impatience, trouble sleeping, unexplained sadness, and loss of interest in the things they love doing.
Stage 3
A person continues to experience the same signs in Stage 2 on top of feeling more tired, the inability to concentrate, and feeling sad and anxious more of the time. A person may also find themselves feeling disconnected to the world around them. If you notice this about yourself or someone you know, seek professional help as soon as possible.
Stage 4
At this stage there may be outbursts of anger, regular panic attacks, loss of memory, less concentration and a person may sleep more or less depending on the mental illness. A person may also avoid or withdraw themselves from people and refuse to attend events.
Please note that the above are general signs to look out for and are not specific to any one case, we are all different!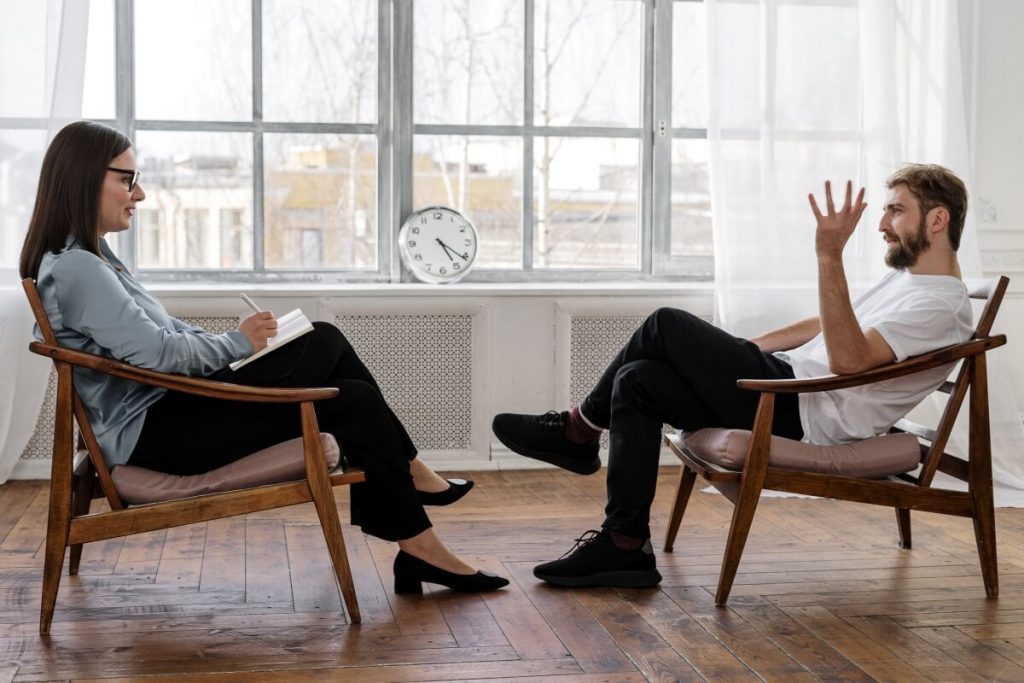 Help is never far away
Even if you feel mentally healthy, you should be aware that help is easily accessible. If you are seeking therapy for your mental health, don't be afraid to discuss your progress with your employer.
If you are an employer yourself, be understanding and aware that your employee may confide in you. When this happens, you need to be kind and accommodating.
Increased concentration and a good night's rest is associated with happy mental health. Be sure to go over this with your employees and let people know that there are mental health services that are available if needed.
Everyone has their good and bad days. Just know that help is not far away!
Contact us
If you have any questions about mental health and how to handle it as an employer, contact Lisnic. We have business leaders that understand the importance of mental health and will guide you on how to handle it in the workplace.
For those who need to hear it, take good care of your mental health because YOU are worth it.
Customer Service Coordinator at Lisnic.com 🤝
Latest articles
Stay up to date
Sign up and be the first to know about our latest offers and news.
Want to know anything else?
We're an open book so hit us up if we've missed anything here or if there's something else you'd like to know.
List your business for FREE and be seen by ready to buy customers!
Copyright © 2023 Lisnic. All rights reserved.
Thought leaders & celebrities share their tactics for success on the Lisnic podcast by Lisa Teh & Nick Bell
Copyright © 2023 Lisnic. All rights reserved.